Young
SET

Ambassadors
Recycling Programme
The Young SET Ambassadors Recycling Project encouraged young people to use their innovative and creative skills to make a proposal for recycling at their school (or home, if home-educated). As well as recycling, the project aims at educating the pupils on how to protect the environment and decrease carbon emissions into the atmosphere.

Process
You may already be recycling, but if you're not already recycling, discover more about how you can really make a difference. For those who already recycle, discover the positive effect your recycling efforts are making and find out what else you may be able to do.
Did you know recycling conserves resources?
When we recycle, used materials are converted into new products, reducing the need to consume natural resources. If used materials are not recycled, new products are made by extracting fresh, raw material from the Earth, through mining and forestry.
Recycling helps conserve important raw materials and protects natural habitats for the future.
Did you know recycling saves energy?
Using recycled materials in the manufacturing process uses considerably less energy than that required for producing new products from raw materials.
There are also extra energy savings because more energy is required to extract, refine, transport and process raw materials ready for industry compared with providing industry-ready materials.
Did you know recycling reduces landfill?
When we recycle, recyclable materials are reprocessed into new products, and as a result the amount of rubbish sent to landfill sites reduces.
Did you know recycling helps protect the environment?
Recycling reduces the need for extracting, refining and processing raw materials all of which create substantial air and water pollution (for example in mining and quarrying). As recycling saves energy it also reduces greenhouse gas emissions, which helps to tackle climate change.
Young SET Ambassadors is designed to raise awareness amongst young people of the possibilities and options offered by SET at university, and inspire them towards the necessary subject choices.
Apart from inspiring the future young scientists, engineers and technologists, Young SET Ambassadors offer benefits to your school, company and mentors and you can make a real difference by participating in the programme.
Awards
The Young SET Ambassadors Awards Day was held on Friday 14th May 2010 at the Informatics Building, University of Edinburgh.
First Prize: St Augustine's RC High School – Edinburgh (University Link UOE)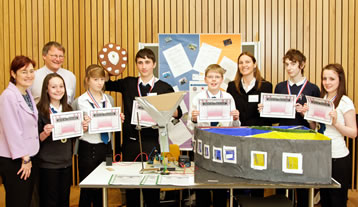 Pupils were awarded certificates, gold medals and the Young SET Ambassadors Trophy, along with £1,000 prize money.
Runners-up: Tynecastle High School – Edinburgh (Company link Macfarlan Smith Ltd)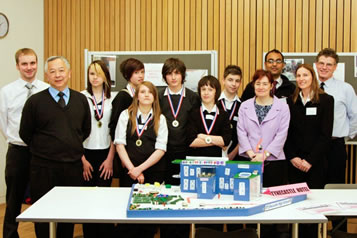 Pupils were awarded certificates and gold medals. A special prize was donated to the runner-up from Professor James Curran, Director of Science & Technology, SEPA.
Prizes were presented by Mrs Sarah Boyack (MSP) who currently serves as Scottish Labour's Shadow Cabinet Secretary for Rural Affairs, Environmental and Climate Change.
The certificates were presented by Mr Michael Lothian from the Royal Bank of Scotland
Judges were:
Dr Andrew Firth – University of Edinburgh
Professor Charles Fairfield – Edinburgh Napier University
Mrs Anne Gray – Science Sleuth

Mr Grant Laidlaw who is the Regional Manager, PSYBT, also gave a presentation.

The school teams had to develop, and produce, a Recycling Project, along with a working model, designed and built within the schools.
All pupils involved with the Young SET Ambassadors programme attended a launch event which was held at the university. The teams then started to develop and manage the Recycling Project with the help of their teachers (or parents) and industrial mentor.
Pupils attended a visit to the company they were linked up with, along with their teacher, and the pupils also enjoyed an exciting tour of the company.
Projects were assessed and displayed at the Young SET Ambassadors Celebration and Awards event held at the university. The projects were assessed by a panel of expert judges from a variety of science, engineering and technology backgrounds.